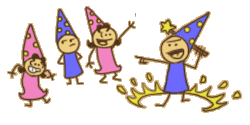 About Us
Mysteries of the Spiral is an official Fansite in Germany with offshoots in UK and US.
Our site was born on July 28, 2012 and is growing steadily.
The language changes can be found in the right corner of the top.
Currently 5 wizards are working for the official german fansite and 2 others for branches in UK and USA.
We'll inform you about all happenings in our and also the international spiral and keep you always up to date with updates, new features or events.
Contact Us
Contact us by...
E-Mail: wizard101fanseite@gmail.com
or in the official forum...